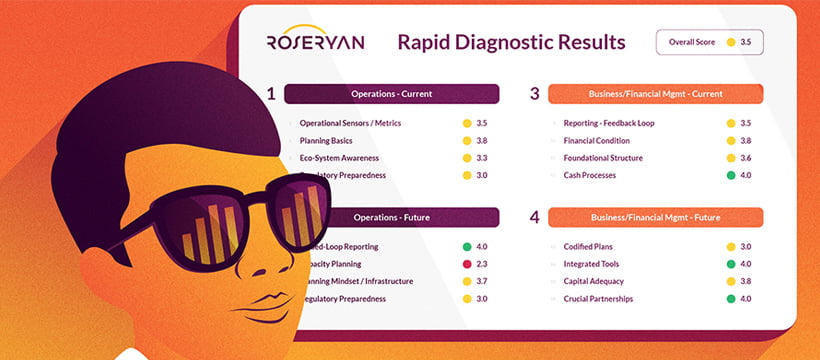 Is your fast-moving company really poised for growth, or are missing pieces to the financial puzzle holding it back? You may be surprised to discover that despite the financial support and early success of your company, it could lack the financial and operational foundation needed to reach the goals expected or set by your VCs. Too often, as we've seen from serving over hundreds of fast-moving startups through the years, many startups don't fully understand their financial situation. Sure, they know their product, they know what they're trying to achieve, but they don't know if they have enough cash to get there or whether they have the systems, processes and resources to be successful.
A quick, impactful assessment specifically created for startups can identify the missing pieces—and propel the company onward. The RoseRyan Rapid Diagnostic for Emerging Growth identifies critical gaps and assesses a company's financial and operational health. It focuses on the 16 essential areas that all startups—from early stage to high growth organizations—need to address. This way, these companies can understand the critical finance and operational issues and risks that can be slowing down or endangering their growth. They also gain insights for ways to improve and proceed toward growth milestones. The point is to gain a perspective on your gaps to growth as well as how to better position the company toward meeting its objectives.
Why an Assessment Makes Sense
Many startups are hyper-focused on their product or their service—which they should be—but as they grow more rapidly than ever before, they tend to sideline their finance and business operations. But this is the time when they should be preparing to scale. The only way to scale is to understand where their business is at. This new tool helps them understand the 16 key areas of importance, by addressing strengths and weaknesses in the business.
The telling information revealed through the Rapid Diagnostic enables startups to be proactive and not reactive—especially as they prepare for key milestone events. Taking about an hour and a half, the Rapid Diagnostic involves an interactive, live meeting with RoseRyan, together reviewing your company's current financial and operational situation. After 30 discussion questions, a score of the company's financial readiness and a report are revealed.
The result? Likely a few "aha moments" for the entrepreneurs and key stakeholders involved. They begin to see where they should focus their attention—the finance and operational areas they might not have been currently focusing on—and perhaps should be.
Are your quality control processes tight and efficient? Do you have your arms around knowing how to handle fraudulent activity and ensure compliance is in place to have ease of mind? These are just some of the questions your company should be asking—and an assessment like the Rapid Diagnostic ensures you're making the right queries.
The areas explored in the diagnostic represent the foundational operations every business should have a pulse on to be successful. These include everything from cash management processes, planning, regulatory preparedness and integrated tools and systems. 
How the Assessment Works
For every discussion question, the company scores itself the 1-5 scale (5 represents "best practices"). The results are summarized on a dashboard with 16 financial areas scored, as well as a consolidated corporate score. Together we discuss the scores, which provide an excellent reading on the overall health of the company, where the gaps lie, and any potential risks to be aware of as the company grows and needs to scale. This is a proactive tool for startups to be in the know now and where they should focus to be successful.
It's a start toward making improvements, if necessary, and creating an awareness of how your financial foundation can be strengthened. With expert insights and a fresh perspective, your startup will be able to minimize pitfalls and emergencies—and smartly chase after growth. For startups, request your Rapid Diagnostic for Emerging Growth here.
Tracey Hashiguchi heads up RoseRyan's Emerging Growth Solutions area, which focuses on delivering all areas of finance and accounting that VC-funded companies need to go further, faster. This practice area delivers all the finance that growing companies need through its dedicated team of savvy consultants. She develops RoseRyan's strategy, programs and consulting team for helping startups get to the next level. Before joining RoseRyan, Tracey worked at Deloitte.
https://roseryan.com/wp-content/uploads/2019/09/News-RoseRyan-Rapid-Diagnostic-for-resized.jpg
360
820
Sarah Johnson
https://roseryan.com/wp-content/uploads/2020/09/RoseRyan-Full-Logo-01-300x102.png
Sarah Johnson
2019-10-21 19:40:38
2020-06-12 12:57:09
Assessing Your Startup's Financial Health—Why a Diagnostic Does the Trick