For three years running, RoseRyan is being recognized as a Top 100 Workplace! This year, we're ranked 11th in the small companies category, surging up the Bay Area News Group's Top WorkplacesTM list by 25 spots.
What did it take to get here? It's all about our employees—they filled out confidential surveys and gave us high marks. Their votes of confidence in our organization is affirmation of our distinctive culture and how we do things. The survey takers concluded RoseRyan has strong overall organizational health and job satisfaction.
Finding the right fit
It feels right. When consultants join our firm, that's the sense they get. They're in the right place, at the right time in their career. They've accumulated the level of skills and experience in finance and accounting to seamlessly become a valuable part of finance teams in some of the world's fastest moving companies, leaning on their past experience to deftly solve problems and tackle tricky transactions. Our consultants come in at just the right time to bridge a gap or to help clients get things done. We help companies build solid finance foundations, take the next step forward, meet their milestones and make the right finance moves.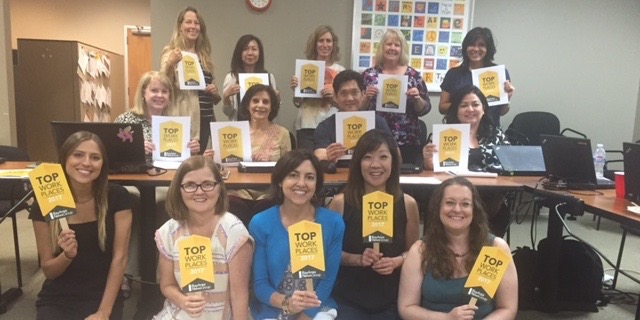 The sense of accomplishment our gurus feel as they get things done in the field is just one of the many reasons why our employees are happy here. And it contributes to why, even in this tight talent market, we are able to attract so many new consultants to our dream team.
A magnet for top talent
At RoseRyan, our consultants work in the best of both worlds—stimulated by a variety of challenging assignments at cool companies while also taking part in our own firm's culture that's open, supportive and connected.
This year's Top 100 Workplaces survey results highlight three stellar strengths about our workplace:
Alignment: It's all about teamwork and positive attitudes. Our culture is built upon a clear set of values. Employees feel their work is appreciated and meaningful.
Connection: We have a distributed workforce—most of our employees are continuously embedded in various client sites—but we all manage to keep bonded and well-informed about what's going on, thanks to regular communications from CEO Kathy Ryan and a variety of employee-led special projects and activities.
Effectiveness: To achieve the best possible results for clients, we actively encourage different viewpoints from consultants. It's a smart way of carrying out due process on a solution—and it keeps fresh ideas flowing when employees know their opinions are meant to be heard.
We have a reputation for helping with the right finance skills at just the right moment to calm the chaos or restore order when needed. Perhaps a company is going through a rough patch or needs a gap filled on the team. Our gurus' natural tendency to "get things done" fast and efficiently from doing it so many times before translates into happy clients. And the positive feedback our consultants receive adds to their job satisfaction.
We love getting things done here in Silicon Valley and it shows. We excel at helping innovative companies reach their milestones, shift gears quickly and surge ahead. And we're thrilled it's getting noticed.
Like what you see here? If you think you'd fit right in with the RoseRyan culture and you have the right stuff, we'd love to hear from you. We're always on the lookout for top talent—full-time and part-time. Contact Michelle Hickam at [email protected].
https://roseryan.com/wp-content/uploads/2022/04/RoseRyan-ZRG-Logo-FC-Web.png
0
0
RoseRyan
https://roseryan.com/wp-content/uploads/2022/04/RoseRyan-ZRG-Logo-FC-Web.png
RoseRyan
2017-08-17 07:58:57
2020-11-16 03:54:58
We made the list! "Top Workplaces" awards RoseRyan for the third straight year