News Release
Media Contact:
Sarah Grolnic-McClurg
Pounce PR
510.898.1837
RoseRyan Tops List for Equity Leadership
for Women in Accounting

AFWA & AWSCPA Release This Year's Annual MOVE Project List;
Fourteen Firms Make the Cut Nationally, with Four from the Bay Area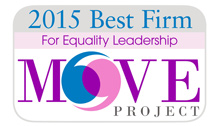 Newark, Calif., June 3, 2015-RoseRyan tops this year's Accounting MOVE Project Equity Leadership list released yesterday by the Accounting & Financial Women's Alliance (AFWA) and American Women's Society of CPAs (AWSCPA).
RoseRyan was founded in 1993 by two women with corporate careers in high tech finance and has grown into a regional powerhouse with more than 70 finance professionals providing specialty services.
Now in its second year, the MOVE list recognizes firms with high proportions of women partners and principals and is part of an overall project aimed at advancing women in the accounting profession. Fourteen accounting firms from around the country were named to the 2015 list, including four from the San Francisco Bay Area.
Selection criteria for the list includes a minimum of 50 employees and a minimum of 32% female partners and principals. RoseRyan, a consulting firm based in Silicon Valley that serves the Bay Area region, has three women executives at the helm: Kathy Ryan, its founder and CEO; Pat Voll, vice president; and Maureen Ryan, vice president.
"When we launched the firm," comments Kathy Ryan, "Sue Macias and I set out to create a new type of consulting firm-one in which our finance consultants, both men and women, could enjoy a rich variety of client engagements, stellar training to keep them on their toes, and work/life flexibility. It wasn't about gender-it was about gathering the best and brightest together for a dream team of finance pros, and it still is. The fact that our executive team is heavily composed of women is a testament to their talent and achievements."
About MOVE and Its 2015 Findings
According to this year's MOVE Project's results, women are gaining traction at public accounting firms, with a significant boost in the proportion of women partners and principals at the 47 firms participating in the project.
Highlighting trends affecting women in the profession, MOVE is spearheaded by Wilson-Tayler Associates, Inc., a strategic communications firm led by business journalist Joanne Cleaver. Sponsors of the project, in addition to the AFWA and AWSCPA, include Moss Adams and Cohn Reznick. The project's partners also team up to produce a "Best CPA Firms for Women" list, which was released yesterday as well and is in its sixth year.
According to Ericka Harney, executive director of the AFWA, "The MOVE Project continues to report improvement for women in the accounting field, but we still have much more to do as an industry."
About RoseRyan
RoseRyan is a finance and accounting consulting firm that tackles critical assignments for companies at any stage of their business lifecycle. Nationally recognized in its field, RoseRyan has helped more than 700 clients at all stages since 1993 by delivering specialized finance and accounting firepower exactly when and where it's needed. From the startup that needs an interim CFO and scalable infrastructure to the publicly traded enterprise challenged with tricky transactions and complex compliance issues, our seasoned pros can help your team or be your team. Whatever the milestone, whatever the challenge, we offer up a savvy blend of public accounting expertise and industry know-how. Based in the San Francisco Bay Area, we focus heavily on the technology and life sciences industries. Recent and current clients include Genomic Health, Nature Box, Tesla Motors, Gilead Sciences, NVIDIA and Philips Lumileds. For more information, visit www.roseryan.com.
https://roseryan.com/wp-content/uploads/2023/01/RoseRyan-30th-Anniversary-Logo-Horizontal-FC-400-300x66.png
0
0
RoseRyan
https://roseryan.com/wp-content/uploads/2023/01/RoseRyan-30th-Anniversary-Logo-Horizontal-FC-400-300x66.png
RoseRyan
2015-06-03 14:07:05
2021-08-26 03:44:20
RoseRyan Tops List for Equity Leadership for Women in Accounting