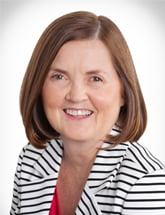 As Chair, Kathy guides the overall mission, strategy, direction and investment decisions of RoseRyan, which she co-founded in 1993. Kathy started RoseRyan on a mission to let highly savvy finance pros combine challenging assignments with a flexible work/life balance—and the firm has grown beyond her wildest dreams. Today it has over 100 professionals and has won a number of regional and national awards. She guided the firm for 26 years before naming David Roberson as chief executive in 2020 to take the finance and accounting consulting firm even further, into a new era of growth.
Kathy has been recognized as a thought leader, innovator and strategist, building upon her extensive CEO and CFO experience (having worked with more than 50 Silicon Valley startups). She created an innovative business model for RoseRyan, with flexible work arrangements coupled with a highly supportive, values-based culture. She spawned new companies as opportunities arose, including Bizinta, our practice management software subsidiary for professional services firms. In 2019 Kathy and team formed another consulting firm, Kukuza Associates, which specializes in cannabis accounting and finance, to help companies professionalize their finance functions.
Kathy was director of finance at Quantum and tax manager at Price Waterhouse before starting RoseRyan with a colleague, Sue Macias.
Industry and regional publications have frequently turned to Kathy for her leadership insights. San Francisco Business Times named Kathy as an influential woman in Bay Area business in 2015. She's twice made Accounting Today's national listing of the sector's top 10 leaders, known as the Managing Partner Elite. And in 2012, the San Jose/Silicon Valley Business Journal named her one of the most influential women in Silicon Valley.
Formerly a Big Four CPA, Kathy holds a BS in accounting from Santa Clara University. A founding member of FINACA, an association of similar consulting firms across the country, Kathy serves on FINACA's board and is an active member of St. Michael's Church in Livermore. Kathy loves golf, needlepoint and (her guilty pleasure) romance novels.
https://roseryan.com/wp-content/uploads/2017/10/kathy_ryan_new_leadership_page.jpg
215
165
RoseRyan
https://roseryan.com/wp-content/uploads/2022/04/RoseRyan-ZRG-Logo-FC-Web.png
RoseRyan
2013-12-01 12:29:55
2022-07-22 00:14:10
Kathleen Ryan, Chair