We've always thought that both men and women are fully capable of having positions of power and authority. Let the talent, skills and merit of any individual shine so they can rise to the top.
At this time in our firm's history, we have three extremely talented executives at the helm here, all women: Kathy Ryan, founder and CEO, and vice presidents Pat Voll and Maureen Ryan. And it is being noticed.
Each year the Accounting & Financial Women's Alliance (AFWA) and American Women's Society of CPAs (AWSCPA) recognize firms with high proportions of women partners and principals in the accounting profession. Just 14 firms made their Accounting MOVE Project Equity Leadership list this year—that's the number of participating firms that have at least 50 employees and a minimum of 32% female partners and principals. This year we rank at the top of the list, since our executive team is composed of all women at this time.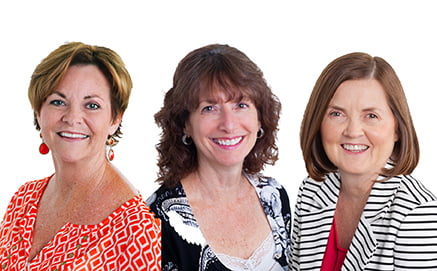 Maureen Ryan, Pat Voll and Kathy Ryan
What's really nice about the MOVE Project, now in its sixth year, is the ongoing effort to encourage the advancement of women in the accounting profession. Unlike us, many accounting firms still have a small percentage of women in executive positions (just 19%, according to the MOVE Project, even though women represent 51% of public accounting firm employees). Too bad, as there is a lot of great talent out there that may get overlooked.
Like others in our industry and talent-strapped Silicon Valley, we are always competing for the very best employees we can get, regardless of gender, and trying to make sure the ones we have love our firm so much that they stick around. While they're here, we give them the tools they need to expand their talents and advance their careers.
Ever since she started the firm in 1993, Kathy Ryan has set out to gather an incredibly capable and diverse team of talented finance aces to provide outstanding work every time. And thus the "dream team" was born—senior consultants, both men and women, who are steeped in both public accounting and corporate finance experience, who fit in easily with various settings, and who help clients at any stage of the game.
Whether it is to help companies interpret the latest accounting rules, whip their corporate governance into shape or to guide them through transitions and transactions, the best consultant for the role is based on experience and skills, not on gender. We love to supply our clients with the right talent at the right time.
What drives our diverse team? Passion and enthusiasm for the job, for sure. But there's also a united set of values behind it all. Our four key values are to be trustworthy, to excel at everything, to be good advocates for our clients and employees, and to be a great member of the team. We think these are pretty good values to live by. By embracing these values honestly and deeply, we are carving the best path forward to help all our men and women advance and find their spot in the sun.
Read more about the MOVE project and the background of RoseRyan's founding in our press release.
Does our firm sound like a good fit for you? We're looking for a few good salaried consultants, who will get the independence of consulting combined with a trusty paycheck, benefits package and professional support. See our open positions here.
https://roseryan.com/wp-content/uploads/2023/01/RoseRyan-30th-Anniversary-Logo-Horizontal-FC-400-300x66.png
0
0
RoseRyan
https://roseryan.com/wp-content/uploads/2023/01/RoseRyan-30th-Anniversary-Logo-Horizontal-FC-400-300x66.png
RoseRyan
2015-06-10 08:53:45
2020-11-16 03:33:00
Women at the top in accounting: RoseRyan ranks high on national equity leadership list