Amid all the uncertainties brought on by the coronavirus pandemic, the economic implications of the health crisis are becoming clearer by the day. During a special, RoseRyan-hosted virtual event last week, Dr. Jon Haveman, Executive Director of NEED (National Economic Education Delegation) and a frequent speaker on the U.S. economy, provided us with a valuable perspective on how the crisis is affecting GDP, the stock market and unemployment, and the fiscal policy moves that are helping to minimize the lasting effects of recent business shutdowns.
Haveman likened the pandemic to a natural disaster in terms of how to deal with it. Unlike, say a massive earthquake that affects just one metropolitan area, however, the pandemic is global, the duration is unpredictable, and "the economic toll is enormous and potentially durable if we don't manage it quite right."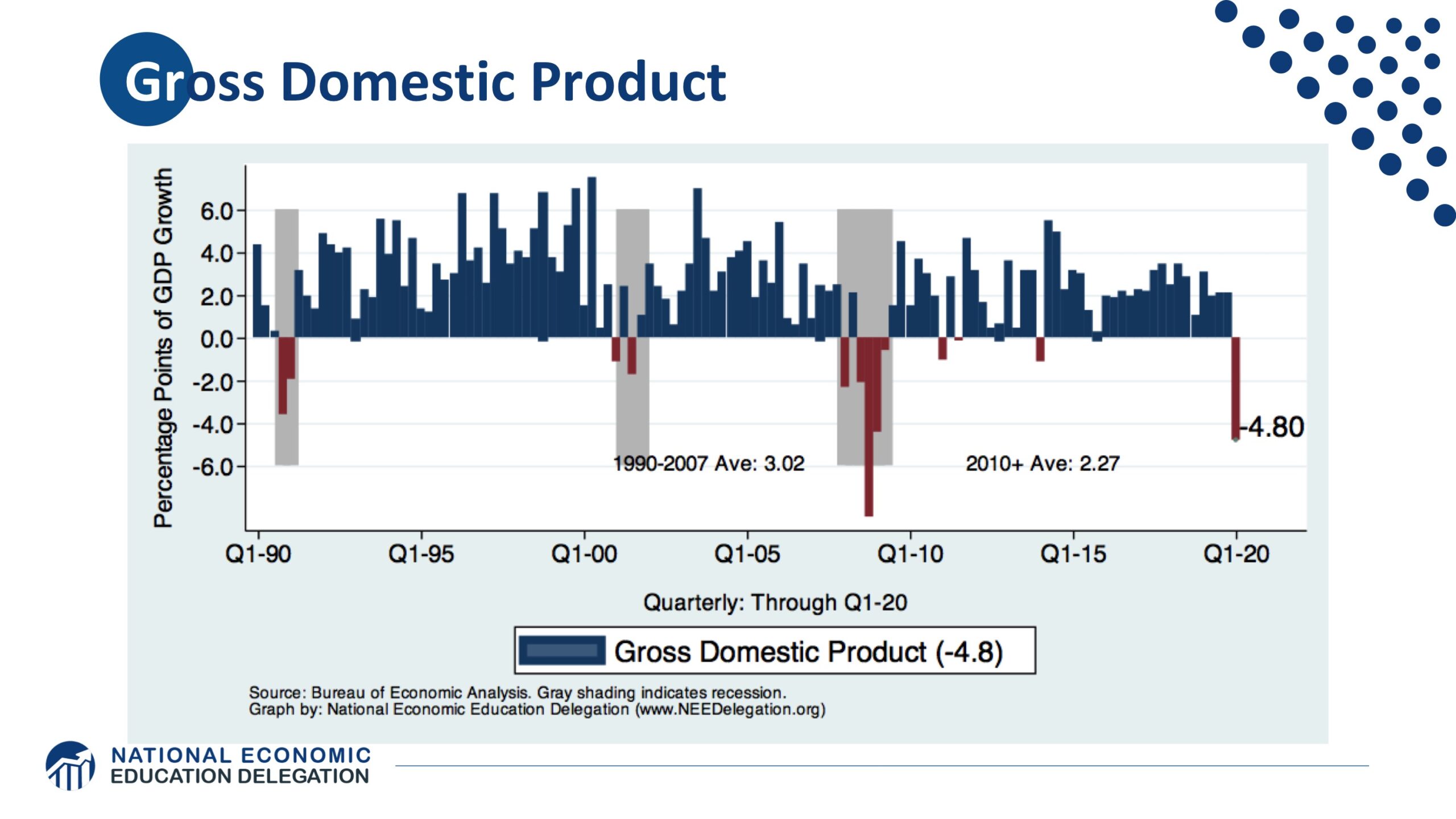 The recently released estimate for Q1's GDP was a shock, Haveman said (see above chart). GDP seasonally adjusted at an annualized rate suggests that if GDP continues growing at the same rate as last quarter, we will lose five percentage points in the course of the year, affecting the economy's resiliency.
While the stock market tumbled earlier this year, the $2.2 trillion congressional virus relief package has aided an upward trajectory for now, said Haveman, whose nonprofit promotes a nonpartisan understanding of the economics of policy issues. Contrast NASDAQ's performance today during the 2008 recession, when the government was much slower to respond to the mortgage crisis (see chart below).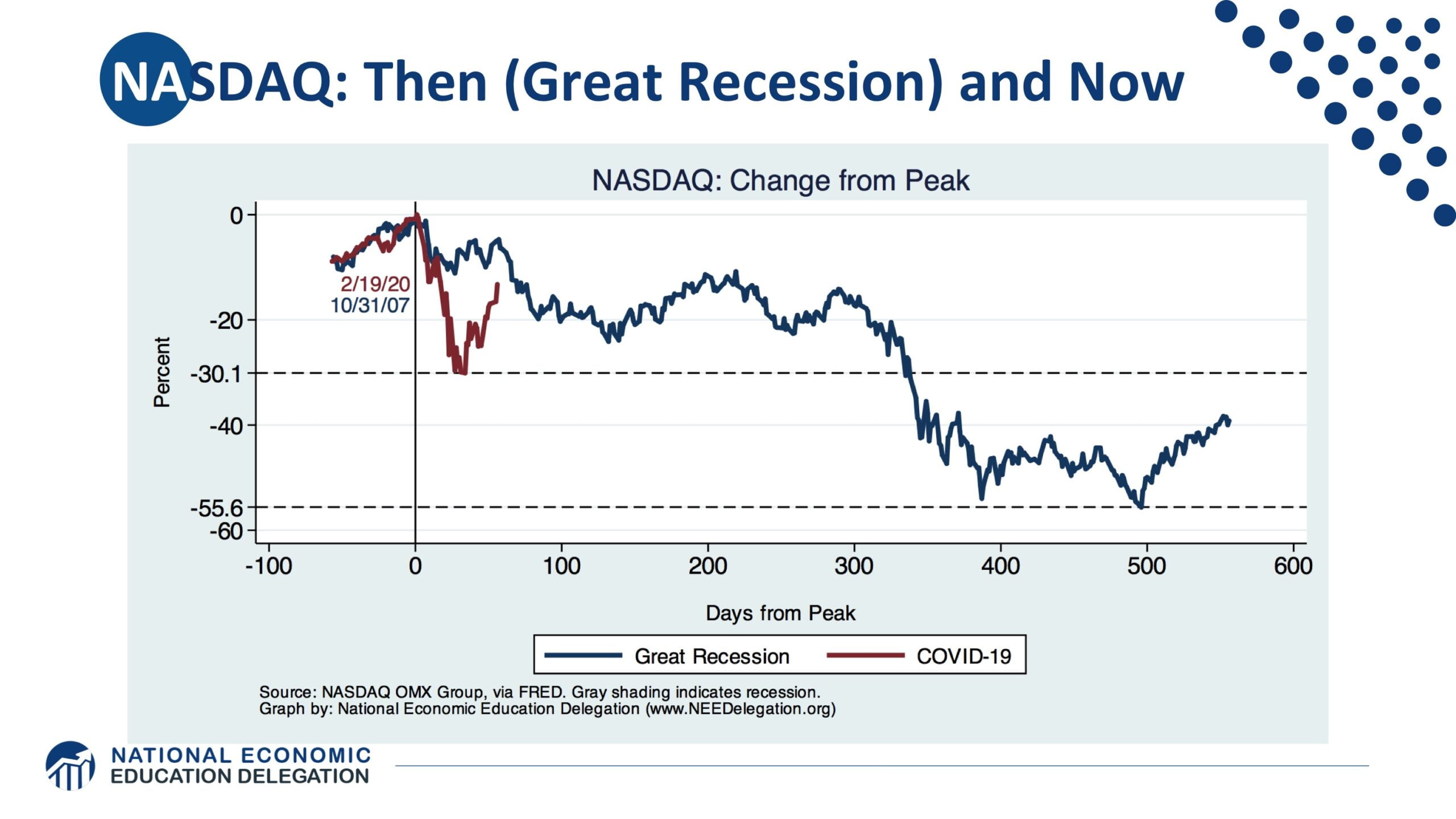 Another tough figure to observe these days is unemployment. Between February and March, 700,000 jobs were lost, "a remarkable rate of decline," Haveman noted. The next survey, to be released on Friday, will likely be in the millions.
When Will the Economy Bounce Back?
Haveman praised many of the actions taken so far to help flatten the curve through social distancing. By slowing the pace of COVID-19 infections, the crisis will take longer to get through but fewer people are likely to die and health care demand can be kept to a manageable level. "With protective measures, we get an almost immediate impact on the economy and the trough is much lower than it otherwise would be," Haveman said. "We're going to be in the soup of this for longer than if we had let it run its course, but this is an effort to save lives."
As for how long we can expect to be in a recession and recovery phase, Haveman said a continuing decline in GDP is a given for the second quarter and likely for Q3 as well. But even when GDP begins to grow again, it will stay below where it otherwise would have been without this crisis—and that may last for as long as six quarters to two years.
As companies wait for when they can return to what feels like more normal workdays in the office, Haveman suggests retaining tight connections with current and furloughed employees so that you're prepared to ramp up when the time comes. The future of the workplace and the demand for services may not be the same as it was for many companies at the start of 2020 anytime soon, but it's always sound advice to prepare for what's ahead.
To catch all of Haveman's talk with RoseRyan, you can view the webinar and slides from RoseRyan's Events page. 

As CEO of RoseRyan, David Roberson leads the day-to-day business and builds upon the firm's established reputation for taking companies further, faster. He also serves as CEO of Kukuza Associates, a RoseRyan subsidiary that provides accounting and finance services to cannabis companies. David previously served as a senior vice president for Hewlett-Packard Co.; president and CEO at Hitachi Data Systems, where he has previously held the titles of COO, CFO, CIO and general counsel; and he has served as a director of 12 companies including Brocade, Quantum, IGT, Spansion and IDT. 
https://roseryan.com/wp-content/uploads/2018/05/img3.jpg
423
1088
Sarah Johnson
https://roseryan.com/wp-content/uploads/2022/04/RoseRyan-ZRG-Logo-FC-Web.png
Sarah Johnson
2020-05-04 23:39:46
2020-06-12 12:57:07
Understanding the Coronavirus Pandemic's Effect on the Economy