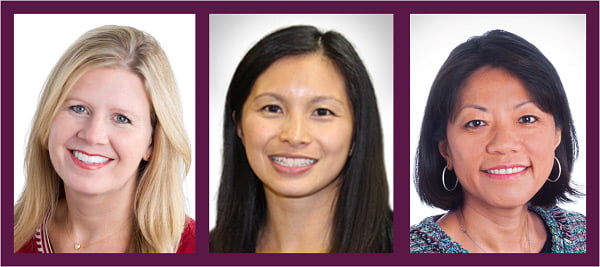 Tough-to-find talent has found their way to RoseRyan. Three accounting whizzes join our Technical Accounting Group (TAG), deepening our bench strength to handle the tricky transactions and evolving accounting matters affecting fast-moving companies.
It's an especially busy time as companies need specialized expertise to make sense of the new revenue recognition rules, the new lease accounting standard, plus thorny financing issues and evolving SEC reporting requirements.
"I'm so excited to add three people to our already robust brain trust of technical accounting experts," says Diana Gilbert, who heads the Technical Accounting Group at RoseRyan. "Companies don't often have the in-house skills to take on complex accounting challenges on their own. Or they need to check in with experts who are in the field and are in the know about the latest accounting interpretations and best practices. We're adding to the resources they can tap with these new members of the TAG team."
The expanded Technical Accounting Group includes two accounting aces who are new to RoseRyan as well as one alum who has boomeranged back. We're thrilled to have their accounting expertise on board!
Kelley Wall
Returning to the TAG team, Kelley was most recently the Director of Corporate Finance at Trimble and has deep experience including as a senior manager with PwC's National Office. Kelley's specialty areas include technical accounting, M&A, and SEC reporting.
Joan Paik
This KPMG and Yahoo alum's specialty areas include stock-based compensation, SEC reporting and technical accounting.
Min Xiao
A former partner at PwC, Min's specialties include SEC filings and technical accounting, financings, organizational transactions and revenue.
Got a technical accounting challenge or a tough transaction on the horizon? RoseRyan's Technical Accounting Group helps companies at all stages. Learn more about our technical accounting solutions.
Please consider joining Diana Gilbert for an upcoming webinar, "Lessons learned from revenue recognition implementations," on March 22, from 10-11:30 a.m. PST. Diana will unlock the many mysteries of revenue recognition implementations so you can streamline yours. For more information and to register, go to: bitly.com/revreclessons.
https://roseryan.com/wp-content/uploads/2018/02/Blog-TAG-Email-Graphic.jpg
267
600
david
https://roseryan.com/wp-content/uploads/2022/04/RoseRyan-ZRG-Logo-FC-Web.png
david
2018-02-28 17:45:18
2020-11-16 03:56:44
Technical accounting pros who love the tough stuff join the dream team