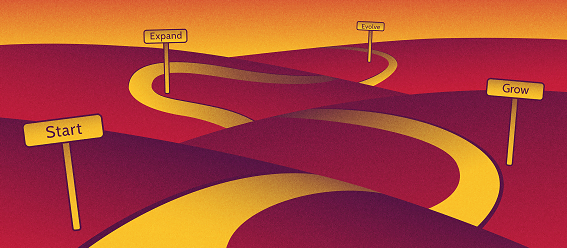 What do you see in the road ahead in 2019? Does it appear more uncertain than sure? Is it paved with growth opportunities or a pullback? For companies large and small, the path forward can take awhile to become clear. At RoseRyan, we observe that the business lifecycle has four stages: Companies start up, grow rapidly (those that do), expand through IPO or acquisition, and evolve into a mature enterprise, which has its own share of crisis points over time.
Every stage offers its share of ups and downs, and tough decisions as the team manages growth and figures out how to overcome the many obstacles that are thrown their way. An unexpected issue—like a takeover offer or a tricky accounting change—can cause a sudden swerve in direction.
Whether your company is in survival mode, gearing up for growth, making its own bid for acquisitions, or figuring out how to beat the competition, a smooth-running finance function is critical. When you can predict the path ahead, you are better able to get through it. There are unique finance challenges that are likely to arise at different stages of the business lifecycle. It could be time for a life sciences company in the "start" stage to go after funding, for example, or a cannabis company in the "grow" stage may need outsourced CFO and controller expertise during a time of hypergrowth. An acquisition may be what an expanding tech company needs most for growth, or an enterprise may be looking at divestiture options to a private equity firm if a tighter focus on the core business is what's needed next.
The lifecycle presents a framework for predicting what's happening and what's around the corner. Smart management decides about resource deployments to keep up with the changes. Knowledge of what you can expect during each of the lifecycle stages can tremendously help decision-making for planning resources and priorities.
Do you know what stage you are in? A quick review:
Start: There's a balancing act between being in survival mode and getting the small business on solid ground. The need to rein in spending can restrain resources when they're needed most—as the company gains traction and begins to move at a fast pace. An outside finance team may be in order to provide part-time, outsourced CFO and accounting teams to set up the financial foundations, guide the smart use of capital, and zero in on key risks.
Grow: Rapid growth is wonderful, but it certainly has challenges. With the heightened complexity comes more pressing accounting and finance demands. Some outsourced finance pros may be exactly what's needed to calm the chaos and get the financial house in order during a massive growth spurt.
Expand: A transformational transaction could be on the docket, but is the company prepared? Does everyone know what comes next? Moving forward with an IPO or acquisition typically requires a lot of extra work. The due diligence, integration, increased compliance requirements, and transition to the new version of the company can be mind-boggling. Savvy support and specialized expertise get companies through the finish line and beyond.
Evolve: Fully mature companies are up against the pressures of other companies wanting what they have, and investors expecting specific outcomes. A change in strategy or even a restart, restructuring or divestiture could be the right move to get the company back on a better footing. Having the right mix of expert finance pros sure does come in handy at critical times.
Where's your company going next? When opportunities come knocking, it's easy to fall off course if you don't have the right mix of finance talent on your team. The view becomes fuzzy when you're moving rapidly or a mega transaction is in your line of sight. When you know the stages of the lifecycle, you can better predict what's ahead. It helps to have a experts who have been down the road before to help navigate the path ahead.
Looking for a roadmap? Check out our explainer on the lifecycle and our report, "Navigating the Business Lifecycle," which includes relevant case studies about each stage.
https://roseryan.com/wp-content/uploads/2018/12/Business-Lifecycle-BLOG-ONLY.png
248
567
Sarah Johnson
https://roseryan.com/wp-content/uploads/2023/01/RoseRyan-30th-Anniversary-Logo-Horizontal-FC-400-300x66.png
Sarah Johnson
2018-12-20 21:06:49
2021-10-25 06:37:50
The Business Lifecycle: Know the Journey So You Can Plan Ahead