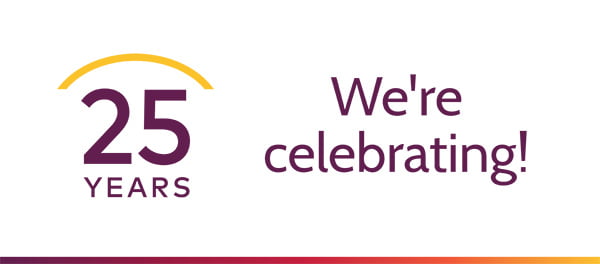 As finance aces, we naturally love numbers. We're turning 25 this week, so thought we'd share 25 things that make RoseRyan special. It's been quite an incredible journey since CEO Kathy Ryan started our consulting firm in 1993 with colleague Sue Macias. And now, with more than 800 clients under our belt, and close to 100 consultants, we're celebrating this amazing milestone.
25 reasons we love RoseRyan:
Growth. We're up to 96 professionals now and continuing to hire. It's awesome, especially in a time of tight talent.
Top talent. It is certainly intellectually stimulating and makes for great conversations when you're working with smart people who share similar work passions and have a high level of expertise. Our team is made up of seasoned industry pros, Big 4 veterans and startup alums.
Shared values. Grounded by four core values (to be Trustworthy, to Excel, to be a strong Advocate, and to be a great Team player), RoseRyan's operates in a kind and respectful way, and we do the right thing. No one gets thrown under the bus.
Flexible work arrangements. We offer a variety of employment options depending on the situation. Our expanding dream team is made up of full-time, part-time and independent consultants.
Friendly culture. Our vibe is supportive, collaborative and super-friendly, and one of the main reasons consultants choose us. "You know you've found the right job when the moment you show up, it feels like home," one consultant wrote about joining the firm. We're family friendly, many people have worked here many years, and we develop life-long friendships.
Fun activities. We're not all work and no play. We gather in groups for lunch and check out local restaurants. After work, we meet up for book club discussions, kettlebell workouts, cooking expeditions and volunteer opportunities. A board game over lunch gets a lot of laughs. We nurture our newbies over dim sum. The "Family Feud" game in a recent all-hands meeting brought the house down!
Challenging assignments. We're driven by fascinating assignments at fast-moving companies. Every company is at a different stage of growth, which we call the "business lifecycle." What thrills us is the opportunity to put our strategic advice and technical skills into motion for a client's success.
Finance solutions that work. Since we've helped hundreds of companies through different types of finance situations over dozens of years, we bottled them up into proven "solutions" for our clients. Clients expect real results. We advise them on what's needed and what to expect ahead, depending on their stage of the business lifecycle.
A fresh, modern brand. Last year we overhauled our positioning, packaged up our solutions, and updated our logo, website and literature to better tell our story.
Marvelous client ratings. Our clients give us 4.7 stars out of 5. Nice! There's an appreciation and mutual respect that have built up over the years.
In the thick of it. We've helped over 800 clients here in the bastion of innovation, Silicon Valley.
Gratifying work. We love to sink our teeth in to get it done fast and right. A recent employee survey rated us very highly for efficiency. We feel that our work really matters.
Our consultants have a life. This isn't easy to find in finance in Silicon Valley with its notorious 70- or 80-hour a week corporate jobs. Let alone the politics! Our goal of a reliable schedule of exciting work still lets us parent our kids, tend to our garden, care for a loved one, climb a mountain or nurture our latest passion. We believe in real vacations, too. Time off is good for the soul. (As long as they tell us all about their adventures when they get back!)
Amazing business partners. We play well with our friends and lob each other business opportunities that come along. We've set up hikes, bocce ball competitions and croquet tournaments for more bonding time with our trusted ecosystem of partners.
Expansion into new markets. While deep into high tech and life sciences for decades, we have recently expanded into the private equity (PE) market and the cannabis market, too. In the PE market, we help with strategic and operational finance work at portfolio companies, and tackle the finance on large divestitures and other cosmic transitions. For cannabis companies, we calm the chaos by professionalizing their finances, lining them up with partners in our ecosystem, and helping some prepare for potential M&A and other deals.
An established player. It takes real staying power to survive and thrive in Silicon Valley for a quarter century. The boom and bust has left many other companies in the dust. Not us!
Openness and transparency. We share a lot and that builds trust. In employee surveys, we've been praised for our openness and the direction we are heading.
Great team players. We've found we add more value when we have a multi-layered approach in teams. More strategic insights get shared, and we apply just the right skill set on projects.
An expanded reach. A new flurry of hires live in Colorado, Montana, Washington and other U.S. states. Plus, we hired two finance pros in Malaysia. Great talent is everywhere! In today's world of anytime, anywhere remote computing, it's all possible.
Fully engaged. We participate in internal teams, take on special projects and keep new initiatives rolling. Our quarterly all-hands meetings, cocktail parties, group lunches and holiday parties are some of the many ways we stay engaged here at RoseRyan.
Applause for women in leadership. We ranked #1 in the nation's MOVE award for women in leadership, when it comes to female equity and accounting firms. That says it all.
Award-winning. Gosh, we're blushing. Among other honors, we've been recognized as a Top Workplace by The Bay Area News Group for four years running.
Contagious generosity. We help each other out a lot, because that's our nature, and we also help our community. We've enjoyed volunteer activities, whether it is tutoring kids in reading, donating school supplies or sorting thousands of oranges at the food bank.
We focus on the long haul. We love working with clients and partners, and really focus on forging lasting relationships that work.
We're hiring! It's a tough market in the Bay Area, but we're continuing to attract high caliber talent. See our latest job listings to see if you'd like to join us.
Check out our photo gallery for our 25 year celebration to see how we roll.
Sound like your kind of place? We're always on the lookout for talent—full-time and part-time positions are available. So, if you like what we're about—and you have the right stuff—contact Michelle Hickam or call her at 510.456.3056 x134.
https://roseryan.com/wp-content/uploads/2018/09/RoseRyan_25thAnniversaryV01_Celebrate-A.jpg
264
600
david
https://roseryan.com/wp-content/uploads/2023/01/RoseRyan-30th-Anniversary-Logo-Horizontal-FC-400-300x66.png
david
2018-09-04 17:11:55
2020-11-16 05:20:38
25 Reasons to Celebrate 25 Great Years