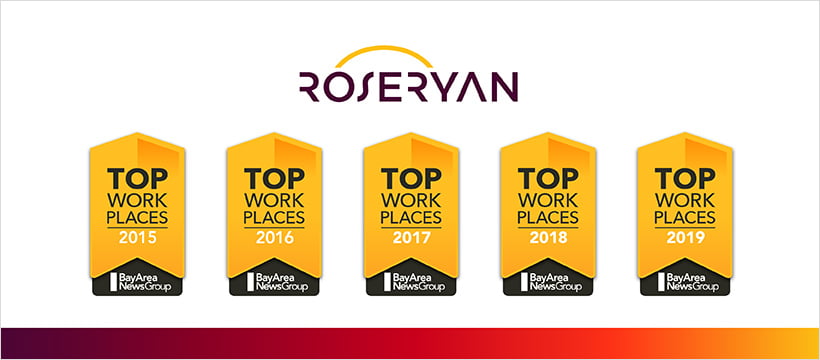 News Release
Media Contact:
Sarah Grolnic-McClurg
Pounce PR
510.898.1837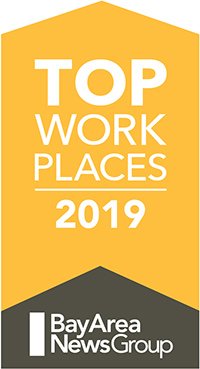 Newark, Calif., June 25, 2019—RoseRyan, a leading regional consulting firm that takes companies further, faster, with proven finance and accounting solutions, has been awarded a 2019 Top Workplaces honor by The Bay Area News Group. This is the fifth year that RoseRyan has made the list, ranking #19 among small businesses.
The Top Workplaces lists are based entirely on the results of confidential employee satisfaction surveys. The list appeared Sunday in a Bay Area News Group supplement found in regional media outlets, including The Mercury News and the Marin Independent Journal.
Similar to last year's results, RoseRyan employees believe that the company is a positive workplace with strong values and that it enjoys robust communication and collaboration. New ideas are also welcomed at the consulting firm, and staff feel well informed and that the company is heading in the right direction. This year's survey enjoyed an 88% response rate.
Notes Kathy Ryan, CEO and founder of RoseRyan, "We're thrilled to make this list again! Through its results, we gain more insight into what keeps our workforce so happy. The survey validates what our firm is all about—flexible work arrangements, interesting assignments at dynamic companies and a continual emphasis on learning and growing."
About the Survey
The list is based solely on employee feedback gathered through a third-party survey administered by research partner Energage LLC, a leading provider of technology-based employee engagement tools. The anonymous survey measures several aspects of workplace culture, including alignment, execution and connection, to name a few.
"Top Workplaces is more than just recognition," says Doug Claffey, CEO of Energage. "Our research shows organizations that earn the award attract better talent, experience lower turnover and are better equipped to deliver bottom-line results. Their leaders prioritize and carefully craft a healthy workplace culture that supports employee engagement."
RoseRyan: Hiring Finance and Accounting Professionals
RoseRyan is hiring accounting and finance professionals at all experience levels. Positions offer exciting, varied assignments at companies of all sizes and kinds. While we focus on the tech and life sciences sectors, we serve a variety of other industries as well. Learn more about our part- and full-time positions here: https://roseryan.com/about/careers-culture. If you're interested in joining our award-winning firm, reach out to our talent team at [email protected] to start the conversation about a career in consulting at RoseRyan!
Says Michelle Hickam, Talent Manager at RoseRyan, "RoseRyan really is a special place to work, with flexible work arrangements, a highly collaborative culture and a common set of values. People thrive in our kind of atmosphere, where we appreciate teamwork, trust and support. It's refreshing for so many professionals who end up calling RoseRyan home."
About Energage
Headquartered in Exton, Pa., Energage is a leading provider of technology-based employee engagement tools that help leaders to unlock potential, inspire performance and achieve amazing results within their organizations. The research partner behind the Top Workplaces program, Energage has surveyed more than 57,000 organizations representing well over 19 million employees in the United States.
About RoseRyan
RoseRyan takes dynamic companies further, faster, by delivering specialized finance and accounting solutions at every stage of your company's growth. Versed in Silicon Valley's rapid pace and unique business environment, our consulting firm has helped more than 850 companies since 1993. Our focus is on tech, life sciences and private equity yet our experience and expertise allow us to consult in other industries; ecommerce, mobile, internet and social media among them. Our broad solution areas focus on emerging growth, interim finance, corporate governance and strategic projects, and our new RoseRyan company, Kukuza Associates™ (www.kukuzaassociates.com), focuses on cannabis accounting. No matter what stage of the business lifecycle you're at, the size of your business or the scale of your next endeavor, RoseRyan has a wide range of tailored finance solutions just when you need them to accelerate growth. Learn more at www.roseryan.com.
https://roseryan.com/wp-content/uploads/2019/06/RoseRyan-Awards-Banner-2015-19_with_stroke.jpg
360
820
david
https://roseryan.com/wp-content/uploads/2022/04/RoseRyan-ZRG-Logo-FC-Web.png
david
2019-06-25 01:23:42
2020-11-16 04:01:25
RoseRyan Honored for 5th Year as a Top 100 Workplace in the Bay Area