News Release
Media contact:
Sarah Grolnic-McClurg
Pounce PR
510.898.1837
sarah AT pounce-pr.com
Joanne Cleaver, President
Wilson-Taylor Associates, Inc.
231-299-1275 M: 414-232-3181
[email protected]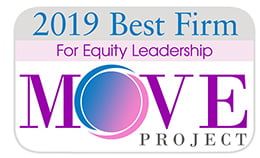 Newark, Calif., June 11, 2019—RoseRyan, a woman-founded finance and accounting consulting firm that takes companies further, faster, has been named to the 2019 Accounting MOVE Project Best CPA Firms for Equity Leadership list. With 60% women partners and principals, RoseRyan is tied for second place with two other firms. Download the MOVE press release with the full list of winners, here: https://www.wilson-taylorassoc.com/move/accounting.
Since 2010, the Accounting MOVE Project has measured and supported the advancement of women at accounting and consulting firms, and this year's project report highlights peer power and intervention that builds retention. Mentioned in publications like the Financial Times and Harvard Business Review, MOVE says it's the only annual benchmarking project that counts and advocates for women in the accounting profession. RoseRyan made its equity list in 2015 and 2016.
Comments Kathy Ryan, CEO of RoseRyan, "RoseRyan empowers women and has since 1993, when we launched. I applaud all the firms that are leading the way for the advancement of women in accounting and am proud that RoseRyan is prominently listed among them. We need organizations like MOVE to keep pushing for change."
About the Best CPA Firms for Equity Leadership List
The Best CPA Firms for Equity Leadership list is based on MOVE survey results and recognizes firms with at least 33% women partners and principals, as 33% is widely recognized as the tipping point for members of any identity group to have individual impact. The Equity Leadership list includes firms that have achieved this milestone through any combination of culture, programs, initiatives and growth.
"Firms of all sizes are engineering new ways for women to excel. And when women excel, firms win new clients and grow their relationships with existing clients," says Joanne Cleaver, President of Wilson-Taylor Associates, Inc., the content strategy firm that manages the Accounting MOVE Project.
"As well, the 2019 Accounting MOVE Project illustrates the power of re-investing in programs and culture proven to advance women. Firms that consistently participate in the Accounting MOVE Project promote more quickly. As a group, 28% of their partners and principals are women, ahead of even the high mark achievement this year of 27% women partners and principals, for all participating firms."
An executive summary of the 2019 Accounting MOVE Project is available at the Accounting & Financial Women's Alliance website: https://www.afwa.org/move-project/
About RoseRyan
RoseRyan takes dynamic companies further, faster, by delivering specialized finance and accounting solutions at every stage of a company's growth. Versed in Silicon Valley's rapid pace and unique business environment, our consulting firm has helped more than 850 companies since 1993. Our focus is on tech, life sciences and private equity yet our experience and expertise allow us to consult in other industries; ecommerce, mobile, internet and social media among them. Our broad solution areas focus on small business, interim finance, corporate governance and strategic projects. Our new RoseRyan company, Kukuza Associates™ (www.kukuzaassociates.com), concentrates solely on cannabis accounting and finance. Learn more at www.roseryan.com.
https://roseryan.com/wp-content/uploads/2019/06/MOVE-Banner-2019.jpg
609
1430
david
https://roseryan.com/wp-content/uploads/2023/01/RoseRyan-30th-Anniversary-Logo-Horizontal-FC-400-300x66.png
david
2019-06-10 18:04:29
2021-08-26 02:30:01
RoseRyan Named a MOVE Project Best CPA Firm for Equity Leadership