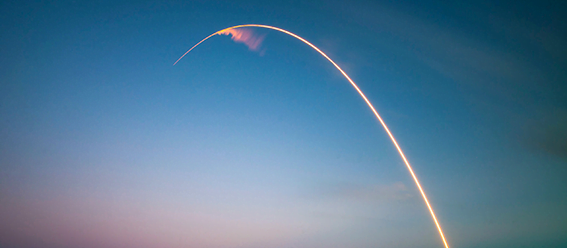 Entrusting your finance and accounting function to an interim consultant: we show you why it makes better business sense to hire a master trouble-shooter and adaptable multitasker to take your organization to the next level
Anytime someone in a vital finance role departs, whether it's temporary or for good, a scramble begins for filling those deep shoes. But the work doesn't stop. Someone needs to take over during this in-between time to keep things moving. It's also a perfect opportunity to lift the team to a higher level of performance, gain a fresh perspective on what's truly needed in the role, and bring insights and clarity to the processes and workflow needed to support your business. But how? This is when we're often asked, "What does an interim consultant do?" and "Why hire a consulting firm rather than a temporary staffing agency?"
As a finance and accounting consulting firm made up of a range of committed pros who love the variety of companies and challenges that the consultant life provides, we know what we'd recommend. But we also know the distinction is not always clear to those who don't live in our world. Oftentimes, a client doesn't realize how wide of a gap their key employee left behind. We'll find that they're missing out on a detailed understanding of a system or process that no one else was keeping track of. Or shifting business priorities have taken the company in a new direction, and the skills on hand aren't a full match for the higher complexities that lie ahead. It takes a particular kind of expertise to bridge such gaps. It requires a proactive nature, and the drive to make the company whole again before the interim finance engagement or project gets wrapped up.
In the following examples, our consultants – rather than someone working through a temp-to-perm firm – were the best fit for a particular situation. The work evolved as unexpected issues arose or things turned out to be more complicated than the client predicted.
1. An interim CFO provides stability when turmoil hits.
At first, RoseRyan interim CFO Joe Kontur spent three days a week overseeing the finances of a private community while the search for a full-time finance chief was underway. He quickly got in a groove with the accounting organization handling the community's five corporate entities, including a golf club. The scope of his role soon changed, though, when the HR director and head of risk management left. With Joe already up to speed, the company had the support necessary – Joe has the experience to get the company through its annual open enrollment period and assist with selecting and on-boarding an outsourced HR firm.
In early March, the coronavirus pandemic shut nearly everything down in California. This put a halt to the private company's recreational and dining activities, and threw all plans and forecasts into question. Even though Joe had only been around for about a month, he was ready to provide the finance leadership needed to help management adjust their priorities and outlook. His work sharply pivoted to what-if scenarios, financial modeling, loan evaluations, and cash flow analysis. Joe's guidance provided stability in a very unstable environment. To find out how Joe navigated this client through troubled waters and put them back on course, click here.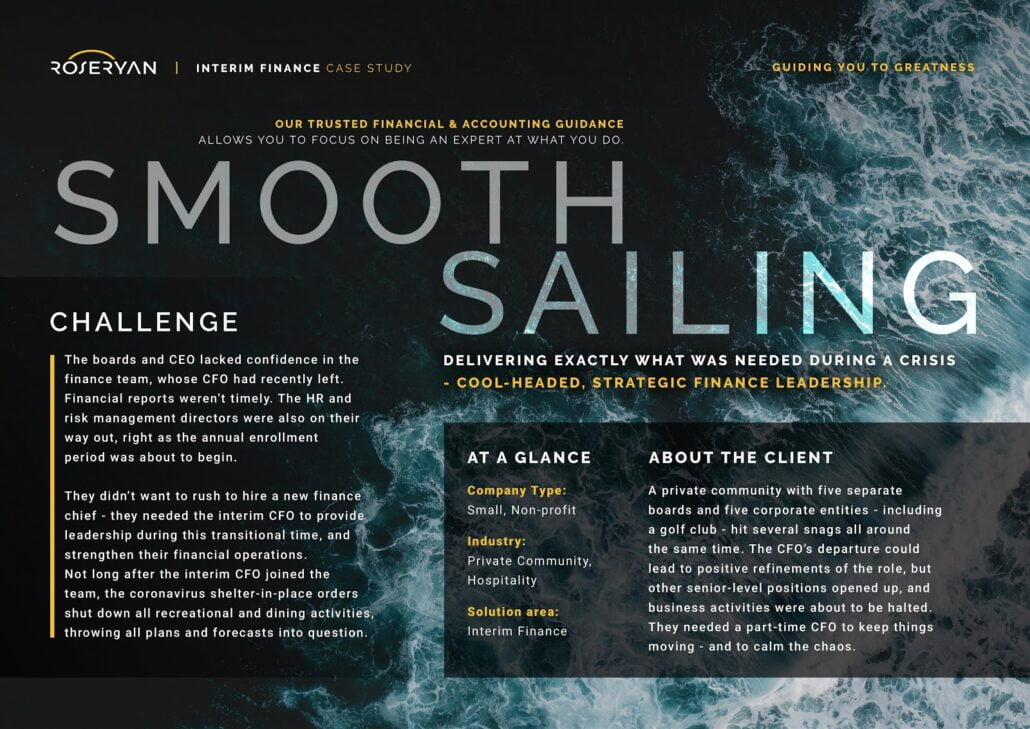 2. An interim senior accountant adapts to any and every situation.
Consultants are known for becoming a part of the team, very quickly. They also become experts in areas of the company, sometimes even more than the people on staff. This is what happened when RoseRyan consultant Pierre Joudy was brought on as an interim senior accountant to backfill a senior accountant role and help the client catch up on backlogged account reconciliations for one of its subsidiaries. Due to high staff turnover, there was no single individual who had a good understanding of the workflow and systems used by this sub.
Working cross-functionally, Pierre learned the subsidiary's legacy systems and accounting and operational processes. He took the extra step of offloading this knowledge by documenting processes and training the client's team on best practices. In fact, he got to know so much about the subsidiary that the company heavily relied on Pierre for many other tasks that had languished. As the "resident expert," he also became the primary contact for an important audit. Whatever came Pierre's way, he was ready for it. Click here to find out more about how Pierre untangled the knots in this client's financial affairs.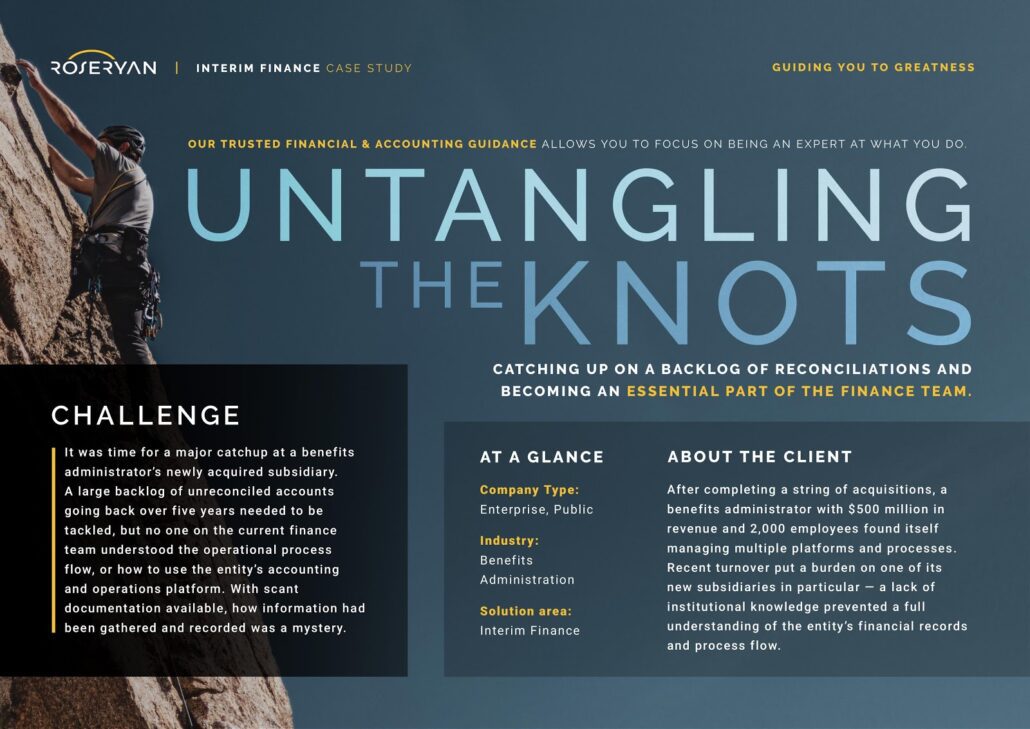 3. An interim cost accountant becomes a trusted advisor.
Finance consultants are highly adaptable – they've been in a variety of situations, at a variety of companies, and they bring a broad skill set to every job. Among other things, RoseRyan consultant Mary Castellucci is a master at cost accounting: the primary reason a publicly traded biopharmaceutical company reached out for our help when their cost accounting director left.
Mary worked closely with the company's supply chain group to get through the year-end close – physical inventory counts, journal entries, account reconciliations, management reporting and disclosures, and standard cost updates, among other much-needed tasks. During the course of her work, Mary identified gaps and inefficiencies, and she recommended streamlined processes as well as changes in workflow. The ultimate goal? To make it so different functions could work more collaboratively. She also documented these new processes so that the work would be done right when it was time for her to move on. The new processes and information she laid out gave management a better understanding of their true needs for the role.
In the midst of this work, the client was acquired, resulting in turnover and additional responsibilities for Mary. Drawing on her own expertise, with input from the RoseRyan Technical Accounting Group, she considered the accounting implications of the changes in business operations on inventory valuation, and she worked with the acquiring company's transition team to understand their reporting requirements and timetable. It was a tight schedule, and Mary worked collaboratively with the various people involved to successfully meet the new deadlines. When employees' responsibilities shifted, Mary could help to fill the gaps and get the company through this transitional time. To discover how Mary passed on the baton to this client's team and helped them to successfully reach the finish line, click here.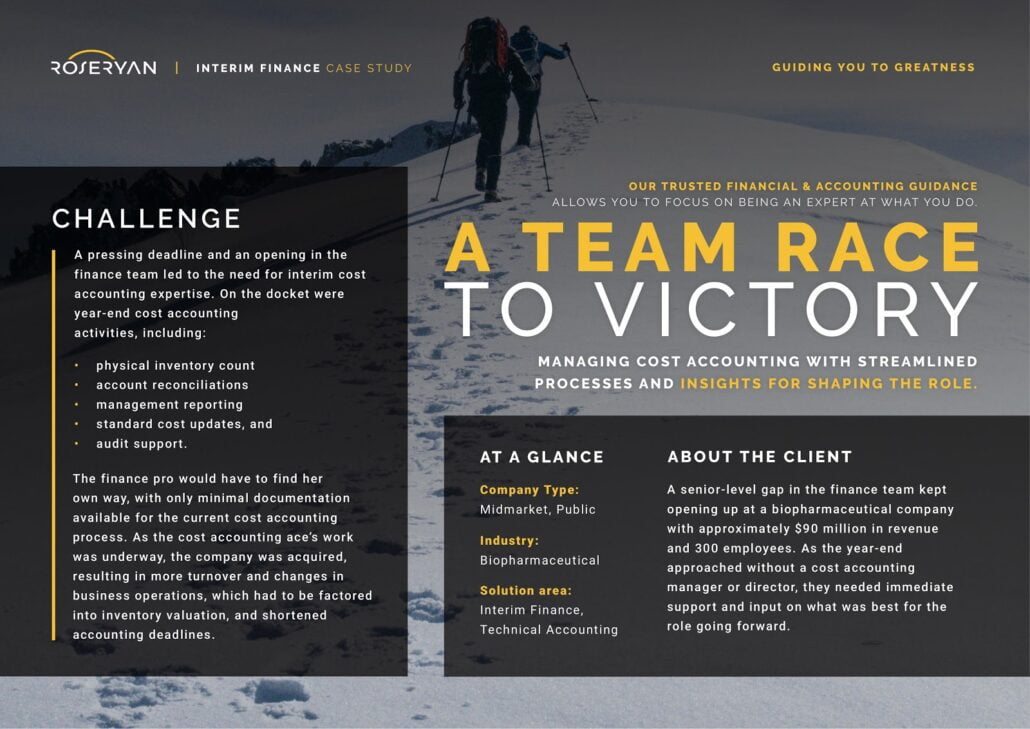 Why should you use an Interim Finance Advisory Solution?
What often happens when a company loses a senior employee or discovers a temporary need for a special skill is the initial ask doesn't match what's actually needed. Few people explain every little thing they do when they leave an employer. Something gets overlooked or forgotten. Institutional knowledge fades away with every departure. At the same time, the company keeps changing, and new challenges arise.
When you opt for a consulting firm to get you through the next hurdle or temporary bump in the road, you're making an efficient choice, with experts who don't need a lot of direction or ramp-up time, are able to pivot quickly when business needs change, can ascertain what is truly needed, and are focused solely on the business at hand. They're driven by what they love to do – helping a company pick up the pieces, putting their finance and accounting expertise into action, uncovering trouble spots, and upskilling the rest of the team to make sure everything will run smoothly when they leave. They're highly efficient, adaptable, and flexible to any scenario thrown their way.
Anticipate a big change? Has a skills gap opened up? Need finance and accounting guidance for an upcoming project? Contact RoseRyan to learn more about our Interim Finance Solutions, and check out more case studies on our Clients page.
To discover how RoseRyan Interim Finance can help you solve your company's finance and accounting challenges, and to get a complimentary tailored needs assessment, click here
https://roseryan.com/wp-content/uploads/2020/08/Rocket-Take-Off-Blog.png
248
567
[email protected]
https://roseryan.com/wp-content/uploads/2023/01/RoseRyan-30th-Anniversary-Logo-Horizontal-FC-400-300x66.png
[email protected]
2020-08-03 06:00:47
2021-02-04 01:59:35
Interim Finance Consulting: Outsourced Financial Wisdom That Will Make All The Difference to Your Business