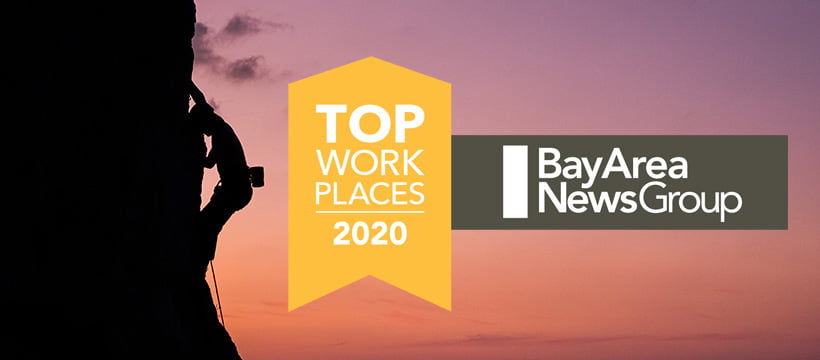 News Release
Media contact:
Sarah Grolnic-McClurg, APR
Pounce PR
510.898.1837
Newark, Calif., August 24, 2020—RoseRyan, a leading advisory firm that helps companies of all kinds—large and small—master their finances, has been awarded a 2020 Top Workplaces honor by The Bay Area News Group. This is the sixth year that the finance and accounting firm has made the Top 100 list.
The Top Workplaces list is based on the results of confidential employee surveys. Published yesterday in Bay Area News Group supplements found throughout the region, the Top 100 list evaluates workplace engagement based on 15 drivers.
Says Dave Roberson, CEO of RoseRyan, "At RoseRyan, we're excited to be again on this list of winning workplaces—it reflects the positive atmosphere that we're so proud of and springs from our strong culture. We believe that when everyone thrives, that's when the magic happens."
RoseRyan employees rated the firm highly for attributes such as purpose, innovation, leadership and open-mindedness. The survey's response rate was 77%.
About the Survey
The Top 100 list is based solely on employee feedback gathered through a third-party survey administered by Energage LLC, a leading provider of technology-based employee engagement tools. The anonymous survey measures several aspects of workplace culture, including alignment, execution and connection.
Says Eric Rubino, Energage CEO, "In times of great change, it is more important than ever to maintain a connection among employees."
Roberson adds that RoseRyan's strong culture, based on the values identified 10 years ago, has allowed the firm to quickly adapt to the coronavirus crisis. The firm "didn't miss a beat" when the shelter-in-place orders happened.
According to Roberson, RoseRyan's tight culture, regular communication channels, and robust tech stack helped the firm quickly adjust to working and managing remotely. Going forward, he adds, the RoseRyan culture will continue to sustain the advisory firm as it weathers the new normal.
About Energage
Energage offers a fully unified SaaS platform, plus support and professional services, to help organizations recruit and retain the right talent. As a B-Corporation founding member, Energage has committed itself to the purpose of making the world a better place to work together. Based on 14 years of culture research, the engine behind 51 Top Workplaces programs across the country, and data gathered from over 20 million employees at 60,000 organizations, Energage has isolated the 15 drivers of engaged cultures that are critical to the success of any business, and developed the tools and expertise to help organizations measure, shape and showcase their unique culture to achieve a sustainable competitive advantage. For more information, please visit energage.com. Follow us on Twitter @teamenergage and Facebook and LinkedIn @energage.
About RoseRyan
Award-winning RoseRyan's tailored advisory expertise out of Silicon Valley helps solve evolving companies' finance and accounting challenges so they can take their business to the next level. Our deeply experienced and innovative consulting professionals integrate seamlessly with your team to bridge the gaps and unlock the potential in your organization. We offer outsourced customized, on-demand and full-stack solutions, services and scalable support at every stage of a company's life cycle, no matter the size. More than 850 clients—from startups to Fortune 500 companies across a range of sectors, including tech and life sciences, eCommerce, mobile, social media and more—have relied on RoseRyan's expert advice since 1993. Our trusted guidance allows you to focus on being great at what you do. How can we transform your performance and accelerate your progress toward success? Find out at www.roseryan.com.
https://roseryan.com/wp-content/uploads/2020/08/Top-Work-Places-2020-Banner.jpg
360
820
[email protected]
https://roseryan.com/wp-content/uploads/2023/01/RoseRyan-30th-Anniversary-Logo-Horizontal-FC-400-300x66.png
[email protected]
2020-08-24 01:00:10
2021-08-26 03:47:03
RoseRyan Wins Another Spot on the Bay Area's Top 100 Workplaces List