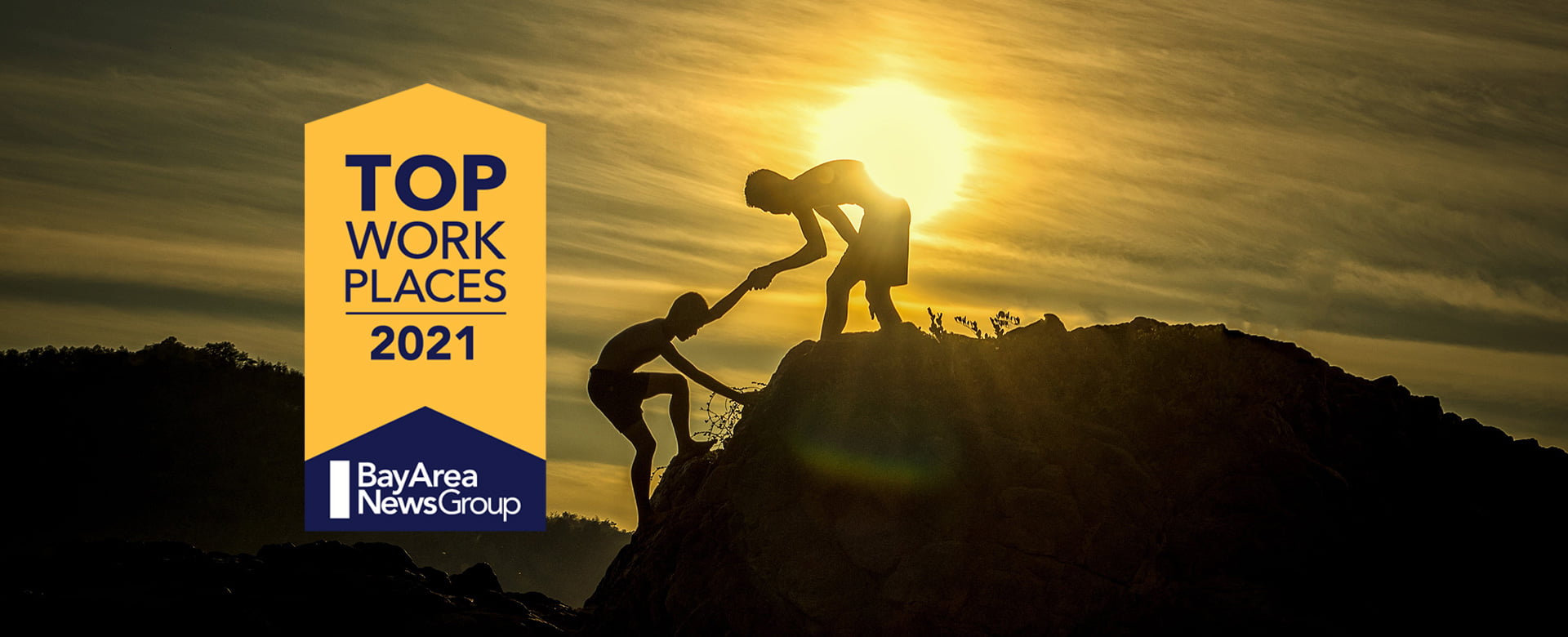 Campbell, Calif., September 15, 2021—For the seventh year in a row, leading Silicon Valley-based finance consulting and accounting advisory firm RoseRyan's employees once again gave the company their vote of confidence in the coveted The Bay Area News Group's 2021 Top 100 Workplaces staff survey.
The company secured a sought-after position on this winning workplaces list after its employees took part in the Group's annual confidential survey that measures 15 workplace engagement drivers, including attributes such as leadership, innovation, open-mindedness and purpose.
The response rate by RoseRyan staff on the survey was 86%, and the results were published during August 2021 in Bay Area News Group supplements distributed throughout the region.
Reflecting on receiving this honor once more, Dave Roberson, RoseRyan CEO says, "Each year since 2015 RoseRyan firm has won this award by receiving consistently high ratings from its staff. This honor is no accident though: our organization's strong culture, founded upon a set of values identified 11 years ago, has allowed our team to continue to excel, despite the challenges that 2020 presented."
Roberson adds that besides RoseRyan's robust company culture, it has also been able to rely on its team's vast expertise and skilled adaptability, as well as good communication channels and a robust tech stack, which factors have all provided the sturdy foundation required to support an impressive client base since 1993.
About the Survey
In its capacity as a third party, Energage LLC—a leading provider of technology-based employee engagement tools—administered the Top 100 Workplaces list survey, which was based entirely on anonymous employee feedback.
About Energage
Energage offers a fully unified SaaS platform, plus support and professional services, to help organizations recruit and retain the right talent. As a B-Corporation founding member, Energage has committed itself to the purpose of making the world a better place to work together. Based on 15 years of culture research, the engine behind 51 Top Workplaces programs across the country, and data gathered from over 20 million employees at 60,000 organizations, Energage has isolated the 15 drivers of engaged cultures that are critical to the success of any business, and developed the tools and expertise to help organizations measure, shape and showcase their unique culture to achieve a sustainable competitive advantage. For more information, please visit www.energage.com. Follow us on Twitter @teamenergage and Facebook and LinkedIn @energage.
About RoseRyan
Award-winning RoseRyan's tailored advisory expertise out of Silicon Valley helps solve evolving companies' finance and accounting challenges so they can take their businesses to the next level. Our deeply experienced and innovative consulting professionals integrate seamlessly with our clients' teams to bridge the gaps and unlock the potential in their organizations. Follow us on LinkedIn
https://roseryan.com/wp-content/uploads/2021/09/RoseRyan-Top-100-Workplaces-2021.jpg
780
1920
[email protected]
https://roseryan.com/wp-content/uploads/2022/04/RoseRyan-ZRG-Logo-FC-Web.png
[email protected]
2021-09-16 10:10:26
2021-09-20 12:53:32
RoseRyan Is Again Awarded a Spot on The Bay Area News Group's Sought-after Top 100 Workplaces List in 2021